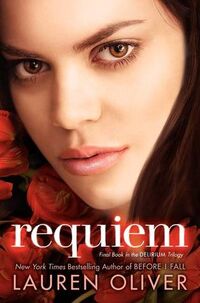 The day we've been waiting for is finally almost here:
Requiem
is getting released TOMORROW! If you were unsure about whether or not the 3rd and final book in
Lauren Oliver
's trilogy is worth getting, check out the reviews from critics and fans below!
The feedback so far seems to be positive, but leave your own reviews in the comments and let us know what you thought!
Loved It

As Delirium swept me off my feet, and Pandemonium raised so many questions, Requiem sucked me in from page one and spat me back out again on the last page, a shell of a woman, wanting more but knowing the source had dried up...If you're not a fan of open-enders, let me pre-warn you that you might be left feeling a touch unsatisfied, but as with the conclusion of book one - there's hope in the emptiness left behind, and a message of love that will touch even the most stony-hearted reader.

I felt that there needed to be at least one more chapter, an epilogue, or something to round off the series to tell me what exactly happened so that I don't spend another few weeks just thinking about what really took place. That had to be the only fault with the book.
Thought It Was Okay

With the cliffhanger from the previous book, I expected a huge climatic beginning, but it wasn't. Don't worry though, there's still lots of action and adventure. I was hoping for a bit more drama and romance though. Lauren Oliver didn't manage to disappoint with the twists, and I loved those. There are always one or two twists that I can't predict, and it's awesome.
Hated It

In Requiem all the momentum built in Pandemonium was halted. Despite the all out war brewing between the Regulators and the Invalids, the main focus of the story was Lena's feelings for Alex and Julian--which changed every other chapter or so. I found Requiem to be incredibly flat and boring, even with the many fighting scenes. They all seemed recycled, and took a backseat to Lena's dithering about the two boys.
What did you think of Requiem?
---
---
Ad blocker interference detected!
Wikia is a free-to-use site that makes money from advertising. We have a modified experience for viewers using ad blockers

Wikia is not accessible if you've made further modifications. Remove the custom ad blocker rule(s) and the page will load as expected.