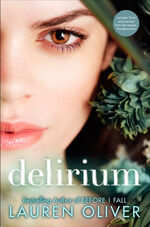 Great news, Delirium fans!! FOX has picked up our favorite book for a show! Only a pilot is ordered for now, but it could potentially lead to more episodes, more Lena Haloway, and more Alex Sheathes!
The show is penned by Karyn Usher (Prison Break) and Peter Chernin and Katherine Pope will join Usher as EPs!
We already can't wait to see who will get casted for the show!
Source: TV Line
What do you think about Delirium getting picked up for TV?
---
---
Ad blocker interference detected!
Wikia is a free-to-use site that makes money from advertising. We have a modified experience for viewers using ad blockers

Wikia is not accessible if you've made further modifications. Remove the custom ad blocker rule(s) and the page will load as expected.