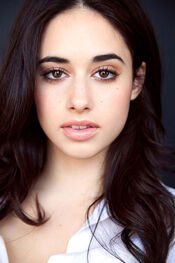 Finally!! News just broke out that we now have a Hana Tate, Lena's best friend! Jeanine Mason, who won season five of So You Think You Can Dance, is going to be starring on FOX's pilot of Delirium with Emma Roberts! Mason also played "Cozette" in several episodes of ABCFamily's Bunheads so she isn't a stranger on the small screen!
Hana is described to be "tall, blonde, and beautiful" so do you think Jeanine Mason fits the bill? We're wondering if the network is going to make her dye her hair or let her keep it dark!
Source: Hollywood Reporter
What do you think of the casting choice for Hana?
---
---
Ad blocker interference detected!
Wikia is a free-to-use site that makes money from advertising. We have a modified experience for viewers using ad blockers

Wikia is not accessible if you've made further modifications. Remove the custom ad blocker rule(s) and the page will load as expected.