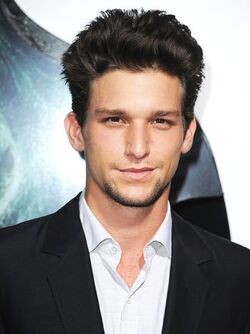 Woohoo! More casting news and this time it's a BIG role! The Secret Life of the American Teenager's Daren Kagasoff has landed the male lead opposite Emma Roberts in the network's adaptation of Delirium by Lauren Oliver!
He will be playing Alex Sheathes, a uniformed police officer Lena Haloway finds herself attracted to. According to The Hollywood Reporter, "[Alex] on the surface appears tough, smug and a rigid enforcer of the government's rules. Underneath, he's a man with a secret agenda: He's a member of an anti-government group led by Lawrence Tack, one that is infiltrating the most oppressive elements of society while hiding the fact that he still has a mind of his own. A vehement opponent of the government's plan to eradicate love, Alex finds himself intensely attracted to Lena. To explore a future together, he must protect her from receiving the government's curative procedure and convert her to his cause."
Source: The Hollywood Reporter
So does Kagasoff seem like the right person for this brooding double agent?
---
---
Ad blocker interference detected!
Wikia is a free-to-use site that makes money from advertising. We have a modified experience for viewers using ad blockers

Wikia is not accessible if you've made further modifications. Remove the custom ad blocker rule(s) and the page will load as expected.