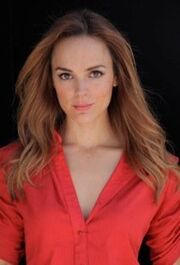 Erin Jessica Cahill (born January 4, 1980) is an American actress. She portrayed Rachel Haloway, Lena Haloway's sister, in the Delirium Pilot.
She was best known for her roles as Jen Scotts in Power Rangers Time Force, Heather Mosby in How I Met Your Mother, and Kendra Burke in Saving Grace. In 2013, Cahill plays the recurring role of Felicity in ABC's Red Widow. Cahill is also noted to be the first lead female character for the Call of Duty franchise, as Chloe 'Karma' Lynch in Call of Duty: Black Ops II.
Ad blocker interference detected!
Wikia is a free-to-use site that makes money from advertising. We have a modified experience for viewers using ad blockers

Wikia is not accessible if you've made further modifications. Remove the custom ad blocker rule(s) and the page will load as expected.