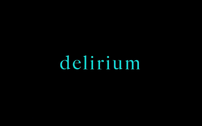 FOX has picked up
Lauren Oliver
's
Delirium
for a TV series. Only a pilot has been ordered for now, but it was penned by Karyn Usher (
Prison Break
) and Peter Chernin and Katherine Pope will join Usher as EPs.
[1]
The cast has begun filming for the pilot as shown by tweets from actors. Filming for the pilot ended April 6, 2013 according to a tweet from the director, Rodrigo Garcia.[2]
---
NOTE
---
Delirium is no longer being picked up by Fox as they rejected the pilot. 
Cast
Book-To-Screen Changes
In the proposed television series, Julian is introduced right off the bat rather than later, as a sickly young man who lives next door to Lena 's best friend, Hana , and is confused by his powerful attraction to her, though she's not particularly interested. Lena also believes that it is her dad that died from the deliria rather than her mom. 
The pilot introduces a new character, Ren, another Invalid who is Alex's best friend. Though Alex falls hard and fast for Lena, he's oblivious to the fact that Ren's feelings for him go beyond friendship. She's a key part of the Invalid's plan to resist the DFA, and ultimately goes undercover to infiltrate the government she's planning to revolt against. The first episode of the TV series actually covers the entire plot of the first book, in addition to including information about Julian and the DFA that readers didn't learn until the sequel.
Media
Behind the Scenes
All images come from the cast and crew's Twitter and Instagram accounts.
References
Ad blocker interference detected!
Wikia is a free-to-use site that makes money from advertising. We have a modified experience for viewers using ad blockers

Wikia is not accessible if you've made further modifications. Remove the custom ad blocker rule(s) and the page will load as expected.